Here's a piece of good news for all those that advocate Human Rights for All, including those that violate human rights of others today.

For they will need their own Human Rights in place one fine day when they are taken in for their transgressions of today --- yes their actions of today will certainly be questioned one day, soon !

MOSCOW, Russia (CNN) -- A Russian Supreme Court ruling on Thursday streamlined the probe of a well-known journalist's killing three years ago, an attorney told CNN.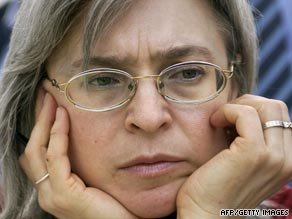 Murdered Russian human rights advocate and journalist Anna Politkovskaya, shown here in 2005.
The court instructed prosecutors to renew the inquiry into the 2006 murder of Anna Politkovskaya by combining the various probes into her death into one murder case, said Karina Moskalenko, attorney for the Politkovskaya family.
The court reversed a lower court ruling that refused a request from Politkovskaya family members for one investigation into the case, ordering prosecutors to merge a case against three men accused of being accomplices in the murder with other inquiries into the October 2006 killing.
A fierce critic of the Kremlin, Politkovskaya was found shot dead in her apartment building while she was working on a series of reports about Chechnya for the independent, Moscow-based newspaper Novaya Gazeta.